(30th January 2018) BBC Good Morning Ulster – Winter Driving Tips (New)
With the recent weather conditions bringing us snow, we had the opportunity to discuss with BBC Radio Ulster some of our suggestions for handling the wintery conditions to keep safe.
Click here to listen to Lloyd offering some of his suggestions.
(Copyright and acknowledgements – BBC Radio Ulster)
---
(24th January 2018) NI Residency Requirement for theory and practical tests (New)
In order to take a theory test or practical test in Northern Ireland, it is a legal requirement that the candidate must be normally resident in Northern Ireland.  Normally resident means that a person lives in Northern Ireland for at least 185 days in each calendar year.
Learner drivers who have a GB provisional licence and want to take a motorcycle, car, bus or lorry theory test or practical test in Northern Ireland, will first need to complete a residency declaration form and send it to DVA with proof that they are normally resident in Northern Ireland.
Guidance on acceptable documentation is included on the Residency Declaration Form.  These forms can be downloaded from NI Direct and can be accessed using the following link:
https://www.nidirect.gov.uk/publications/residency-declaration-form 
The requirement has applied to theory test bookings from 1st August and will apply to practical test bookings from 16th October 2017.  Candidates who already have tests booked before those dates will be able to take the test that is booked, but will have to comply with the residency requirement if they wish to book subsequent tests.
The residency requirement does not apply to Driver CPC Module 2 case studies or Driver CPC Module 4 practical demonstration test.; the ADI or AMI theory, practical or instructional ability test; or the taxi driver theory or practical test.
---
(24th January 2018) First MOT test to remain at 3 years to protect road safety (New)
The wait for the first MOT test on cars and motorcycles won't be extended to 4 years due to safety concerns.
Ministers put road safety first as they today (18 January 2018) decided to maintain the period before a car's first MOT test at 3 years.
The move comes after a Department for Transport consultation last year to consider changing the wait before the first test to 4 years.
Most of those responding to the consultation were against the proposals on safety grounds, arguing that the savings to motorists were outweighed by the risk to road users and the test often highlights upcoming issues affecting the vehicle. A public survey for DfT by Populus also showed fewer than half of people were in favour of the change.
Roads Minister Jesse Norman said:
---
(
4th October 2017) Drivers' hours: changes to fines for commercial drivers
Rules will be changed so lorry, bus and coach drivers who drive tired will be fined for every time they've done it in the last 28 days.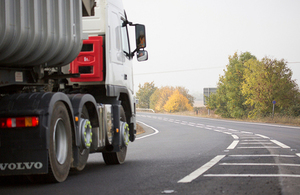 If you drive a lorry, bus or coach, you must follow rules on how many hours you can drive and the breaks you need to take.
The Driver and Vehicle Standards Agency (DVSA) can fine drivers up to £300 if they're caught breaking the rules. They can also be prosecuted or have their vehicle immobilised.
At the moment, DVSA can only fine drivers for:
offences committed that day
ongoing offences, like manipulating tachograph records, which record drivers' hours
Drivers will be fined for older offences
DVSA traffic examiners will be given new powers to issue on-the-spot fines for any drivers' hours offences committed in the last 28 days.
In a single roadside check, DVSA traffic examiners will be able to issue fines for up to 5 drivers' hours offences. It means you could be fined up to £1,500 in a single check if you've consistently broken the rules.
For more information click here
---
(22nd June 2017)  Teachers warned of school minibus driving licence rules
http://www.bbc.co.uk/news/uk-northern-ireland-40347630
Latest advice from the Education Authority to school teachers who drive a minibus and licensing requirements.
---
(22nd June 2017)  'Not for profit' minibus drivers could have licences rendered invalid if European Commission ruling is enforced
http://www.irishnews.com/news/2017/05/30/news/-not-for-profit-minibus-drivers-could-have-licences-rendered-invalid-if-european-commission-ruling-is-enforced-1038615/
---
(22nd June 2017) Taxi Driver Periodic Training introduced in Northern Ireland
Taxi Driver Periodic Training has been introduced in Northern Ireland from the 1st September 2015.  The purpose of periodic training is to raise the standards of the taxi industry and to develop the current skills of taxi drivers.
Taxi Drivers in Northern Ireland will not be able to renew their taxi driver licence until they have completed the required amount of periodic training which must include at least one Disability Awareness course of a minimum of 3.5 hours.
Find out more here:
http://www.jaupt.org.uk/news/2015/09/taxi-driver-periodic-training-introduced-in-northern-ireland